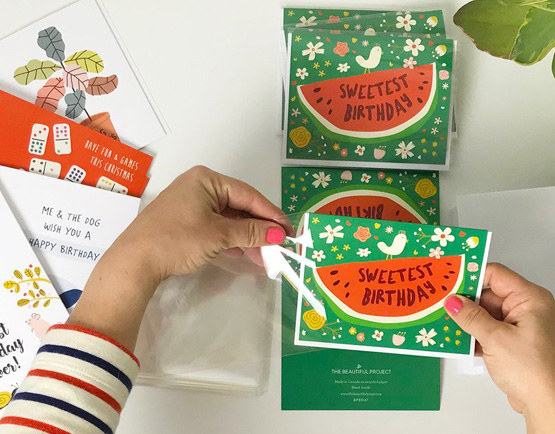 Original illustrations, cheeky sentiments and a bit of whimsy—these paper works are designed with love.
The Beautiful Project was established in 2005 by graphic artist, illustrator and web designer, Jeannette Ordas. Her work is inspired by her love of all things vintage and cute, from 1950's cookbooks to textiles and typography.
Press
The Beautiful Project has been featured in various design & lifestyle blogs. These are just a few:
Stockists
You can find The Beautiful Project at these fine retailers:
Vancouver & Area:
Barefoot Contessa, Vancouver, BC
Brick & Mortar Living, New Westminster, BC
Collage Collage, Vancouver, BC
Dilly Dally Kids, Vancouver, BC
Gigi B On Granville Island, Vancouver, BC
Holland Shopping Centre, New Westminster, BC
Kaboodles Toy Store, Vancouver, BC
Kimprints, Vancouver, BC
Meadow, Vancouver, BC
Parade Organics, Vancouver, BC
Red Horses Gallery, West Vancouver, BC
Tiny Finery, Vancouver, BC
West Van Florist, West Vancouver, BC
British Columbia:
Bolen Books, Victoria, BC
The Milkman's Daughter, Victoria, BC
Nest & Cradle, Victoria, BC
The Papery, Victoria, BC
Simply Gifted, Victoria, BC
Manitoba:
Bailiwix, Winnipeg, MB
Desart, Winnipeg, MB
Toronto & Area:
Chapters (Bay & Bloor), Toronto, ON
Ella Minnow, Toronto, ON
Labour of Love, Toronto, ON
Le Tablier Blanc, Toronto, ON
Midoco, Toronto, ON
Outer Layer, Toronto, ON
Paperboy Cards & Gifts, Toronto, ON
Scooter Girl, Toronto, ON
Summerhill Market, Toronto, ON
Write Impressions, Toronto, ON
Rhode Island, USA
MUSE, Warren, RI
Wholesale
Interested in carrying The Beautiful Project's greeting cards in your smart & savvy retail location? Please send us an email with your store information and we'll send you our current catalogue (PDF) along with our terms & conditions to make ordering a snap.
Email Newsletter
Keep updated!
Sign up to receive our very occasional (2-4 times a year) email newsletter: