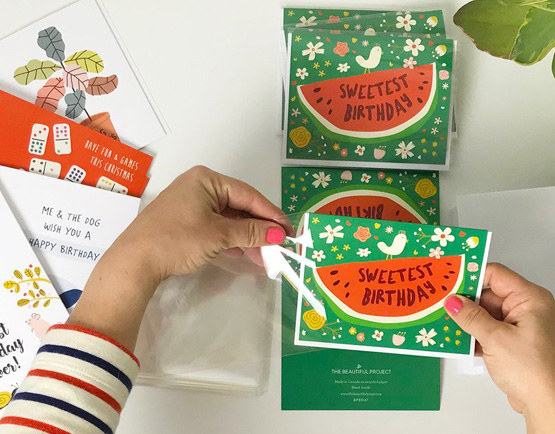 The Beautiful Project offers up whimsical, original illustrated greeting cards and paper goods. The designs are colourful and fun, often with a cutting wit. New cards and creations debut every few months, many featuring cute animals wearing sly grins and spouting oddball sentiments.
Jeannette Ordas, who wears all the hats in this endeavour, has a fondness for the clever and the goofy in equal measure.
Press
The Beautiful Project has been featured in various design & lifestyle blogs. These are just a few:
Stockists
You can find The Beautiful Project at these fine retailers:
Vancouver & Area:
Canteen & Supply, New Westminster, BC
Dilly Dally Kids, Vancouver, BC
Full Bloom Flowers, Vancouver, BC
Front & Company, Vancouver, BC
Le Gateau Bake Shop, Vancouver, BC
London Fields Shoppe, Vancouver, BC
Meadow, Vancouver, BC
Neighbourhood Quality Goods, Vancouver, BC
Paper-Ya, Vancouver, BC
Parade Organics - Gastown, Vancouver, BC
Scout & Co., Steveston, BC
Special Moments Flowers & Gifts, North Vancouver, BC
Stong's Market - Floral Dept., North Vancouver, BC
Studio 126, Vancouver, BC
Tiny Finery, Vancouver, BC
British Columbia:
Gypsy Drifter Shop, Ucluelet, BC
Maine, USA
Nest, Brunswick, ME
Massachusetts, USA
Rugg Road Paper Company, Boston, MA
Trident Booksellers, Boston, MA
Brookline Booksmith, Brookline, MA
Harvard Bookstore, Cambridge, MA
Porter Square Books, Cambridge, MA
Common Crow, Gloucester, MA
Something Special, Lincoln, MA
Davis Squared, Sommerville, MA
New Mexico, USA
Beeps, Albuquerque, NM
Wholesale
Interested in carrying The Beautiful Project's greeting cards in your smart & savvy retail location? Please send us an email with your store information and we'll send you our current catalogue (PDF) along with our terms & conditions to make ordering a snap. If your shop is an an area served by one of our Sales Reps or distributors, we'll send you their information so you can order through them. It's easy!
Email Newsletter
Keep updated!
Sign up to receive our very occasional (2-4 times a year) email newsletter: